Former Pakistani Prime Minister Imran Khan claims that it was pressure from the US that brought him and his government down last year. The Americans are said to have preferred a change of regime in the country because Khan was considered too "Russia-friendly" and his foreign policy was not deemed to favor American interests.
In a candid interview with Newsweek, the former prime minister claims that his "defiance" of the Americans led to his political downfall last year. The US was reportedly very unhappy with the foreign policy Khan wanted to pursue and even more unhappy with his official visit to Russia.
Because of this, and following persuasion campaigns by his political opponents, the US, according to Khan, began to consider him an "enemy of the US" and eventually the opposition in the country, with US support, was able to maneuver him out.
Khan himself says he has written evidence that the Americans were involved in a conspiracy to remove him and replace him with a more US-friendly regime.
– For some reason, if you don't agree with the US foreign policy, you turn anti-American
Khan, who himself advocates what he says is a foreign policy that does not support the interests of the US or other major powers, was removed from office just over a year ago following a vote of no confidence in the country's parliament.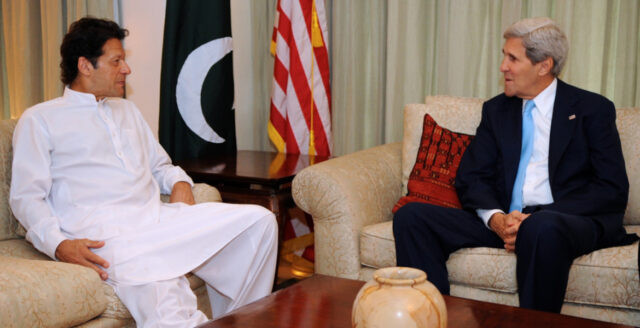 Khan is also under house arrest and is accused of involvement in corruption, terrorism and murder, but says he is innocent and that his opponents made up the charges against him for purely political reasons to get him out of office.
– I'm not really that worried about my own fate, because that's secondary. The main thing is the future of Pakistan, which is what I'm worried about. Because I really fear now that this path which we are being taken on, there is nothing but darkness ahead. Because, apart from anything else, our whole democracy is being dismantled.

The US State Department said in a statement that it had nothing to do with the removal of Khan.
"These allegations are categorically false; you have heard me say this before. Pakistani politics are a matter for the Pakistani people to decide and for them to pursue within the auspices of their own constitution and laws", it is claimed.
It is worth mentioning that as recently as November 2022, Khan was the target of an assassination attempt, shortly after his removal from office and while delivering a speech to his supporters urging them to march on the capital. Khan and nine others were injured when a seemingly lone gunman opened fire with automatic weapons, and a sympathizer of his Pakistan Tehreek-e-Insaf party died in the attack.