On Sunday, militant climate activists from the "Ultima Generazione" (Last Generation) group climbed down the Italian national treasure Fontana di Trevi to vandalize the world-famous fountain. This, observers fear, may have damaged the fountain's delicate waters for a long time to come.
– Our country is dying! members of the militant group shouted as they poured charcoal into the water while holding banners reading "We won't pay for fossil (fuels)".
However, uniformed police quickly waded into the water and arrested the activists, while tourists and onlookers filmed the action, some of whom shouted insults and profanities.
Members of the Ultima Generazione were in Rome against the backdrop of recent events in the province of Ravenna, in north-eastern Italy. The activists claim, among other things, that the earth will soon end if nothing is done to change what in globalist circles is often referred to as global warming.
However, the environmentally hazardous event has provoked strong reactions. On Twitter, Swedish author and gastronome Edward Blom commented on the action, calling those involved "damn pigs".
Vilka förbannade svin! Förstöra en så förtrollad plats. Folk som förstör konst borde buras in på livstid! Kommer gå åt massa energi för att få den ren om det ens är möjligt. Onda människor är illa nog men folk som gör onda saker för att sätta fokus på ett gott ändamål (och därför… https://t.co/8QWC3aHuxd

— Edward Blom (@Edward_Blom) May 21, 2023
Mayor of Rome Roberto Gualtieri strongly condemned the action, which is the latest in a series of actions against works of art in Italy.

– Enough of these absurd attacks on our artistic heritage, he comments on Twitter.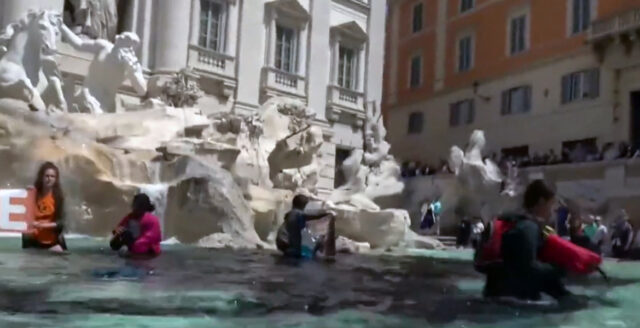 In a statement, Ultima Generazione calls for an end to public subsidies for fossil fuels, saying that the reason for the current "protest action" is the past week's unwanted water accumulation in the Emilia-Romagna region. Ultima Generazione also claims that one in four houses in Italy is at risk of future flooding.
The affected region in north-eastern Italy borders the Adriatic coast and is surrounded by a network of canals and surrounding swamps and marshes. A flood in May 1636 destroyed much of the city itself.
The Fontana di Trevi is a world-famous fountain located in the Piazza di Trevi in central Rome, Italy. It was designed by Giovanni Lorenzo Bernini and completed by Nicola Salvi in 1762. Trevi is an etymological corruption of trivio, meaning 'three streets' (originally three streets converged in the square in front of the fountain).