Satirical cartoonist Bob Moran has made his artistic journey straight through political correctness like few others. Particularly in the era of corona politics, Moran's accurate and hilarious portraits of contemporary life have become highly appreciated not only by the British public, but by the world at large.
Artists engaged in satire have always played an important role in society, pointing out truths that others may not have dared to or been able to see. With the rise of political correctness, satire has almost become a dying art form, with some rare exceptions. One such exception is Bob Moran.
In the documentary Brilliantly Difficult Film, we follow Moran's journey and how his art has pushed the boundaries through a variety of expressions that dress up the contradictory messages and bizarre logic of the establishment.
– So Bob is pretty much in a field of his own, doing the things that satirical cartoonists were always supposed to do; which is afflict the comfortable and comfort the afflicted, says journalist James Delingspole. Where is that satirical spirit today? he also asks.
Satire, Moran says, is important to keep those in power and politicians "in check" and to remind people that they can still be laughed at – no matter how big their egos might get.
– It's about understanding we need people to govern us, we need rules, we need a system, and functioning democracy, but within that there will by hypocracy, there will be contradictions", he says.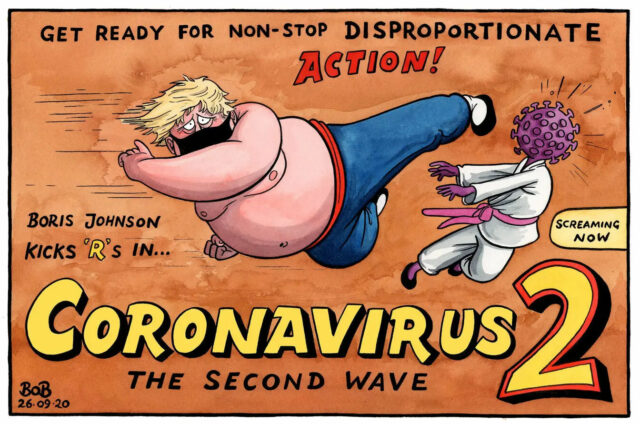 Bob Moran has previously been published in newspapers such as the Morning Star and The Guardian. In recent years he has worked at The Telegraph, where he has been a regular weekly cartoonist. During the coronavirus lockdown policy, Moran fell out with them and went his own way – a way that won the hearts of the British public.
– So many of the cartoons that he did just completely have his finger on the pulse of the emotion I was feeling at the time and reminds us that there are other people that feel the way we feel, says TV presenter Tonia Buxton.
Moran and his wife had a daughter a few years earlier who had complications at birth and now lives with cerebral palsy and epilepsy. The restrictions in the UK had a very negative impact on his daughter's health, as she was barely able to see her various health care contacts, could not go to school with other children, or ride or swim as she loved to do. Moran describes how his daughter became significantly worse both physically and mentally during the lockdowns and that for him it was the "last straw".
– He is being brave for his daughter. Who else is going to speak for her when she didn't get treatment for two years. No one is speaking for any of those other kids that didn't get treatment over two years and finally, he snapped, says his friend Bernie Spofforth, a CEO and business investor.
Moran himself emphasizes that his art is not primarily about trying to be funny, but about getting people to see reality for what it is.
– It was about trying to make people understand simple truths that I felt they were forgetting and make them think about what was happening in a different way to how the government wanted them to think of this stuff.
Part of Moran's criticism of the corona policy was about people's right to see their loved ones, such as the right of the elderly to decide whether or not they want to see their grandchildren.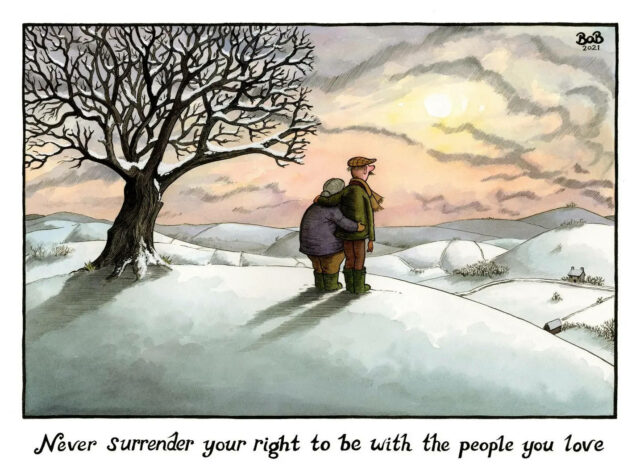 His art has illustrated many of the bizarre expressions of hypocrisy and deceit that currently characterize the world. Although he no longer works for a major newspaper, his work is spreading around the world like never before. He also wants to share it with more people, which is why he has partnered with the Democracy Fund to offer his art to magazines for free.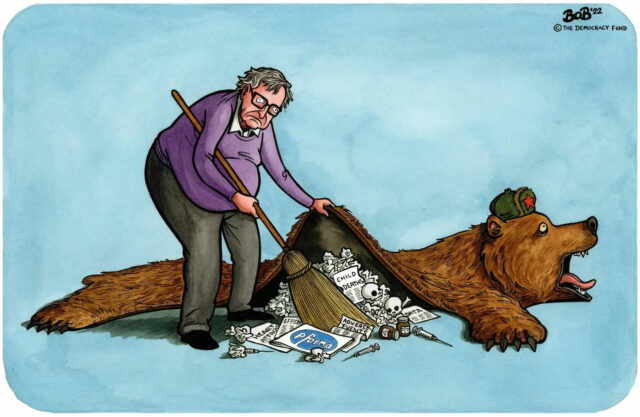 Toby Young, General Secretary of the Free Speech Union, believes that in the future, historians will look back at Moran's art and gain real insight into the madness of the current era.
– Seeing Bobs cartoons will provide historians with a real insight into the futility of lockdowns as a policy. This mass hysteria that seemed to infect the entire population and why things happened as they did, he says.
BOB: Brilliantly Difficult
View full documentary at https://t.co/Jd4WwVMiwv
Featuring @BernieSpofforth @beverleyturner @ToniaBuxton @TheFreds @JamesDelingpole @DickDelingpole @toadmeister Dr Tess Lawrie & Tim Price
Music by @FiveTimesAugust pic.twitter.com/usTmrmbY0Z

— Bob Moran (@bobscartoons) August 20, 2022

Moran declares that he will continue to paint the world as he sees it and says that it is also important to record for posterity that there were indeed people at that time who did not share the commonly held views.
– I don't know if any of my pieces have changed somebodys mind, but I'm always trying to communicate where I think we are, how serious i think is is, how afraid I think we should bem how angry I think we should be and record the fact that there where people when this was happening who did not agree with it so that when future generations look back there is an alternative narrative, he says.

The full documentary can be viewed here.